I was first introduced to Prokofiev's
Peter and the Wolf
by Disney in childhood. And, I'm guessing you were too. Remember this?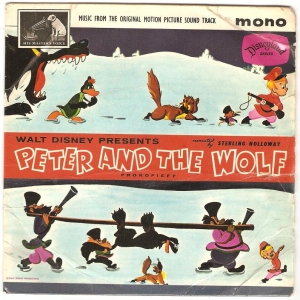 Or this?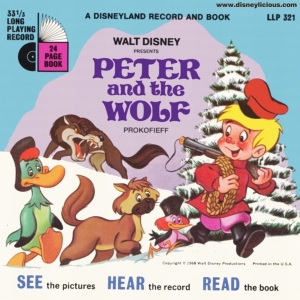 Peter and the Wolf is a children's story and orchestral piece written by Sergei Prokofiev in 1936. Disney commandeered it shortly thereafter and has created and recreated several versions over the years. In the minds of many, it's actually a Disney song.
Today I'd like to extract it from Disney and provide you with a fresh perspective.
On the first week of the month, I recommend a song and a book for preschoolers. This time, the song and book go together.
The Book
Chris Raschka is a writer and artist who has created a lovely version

of this classic tale.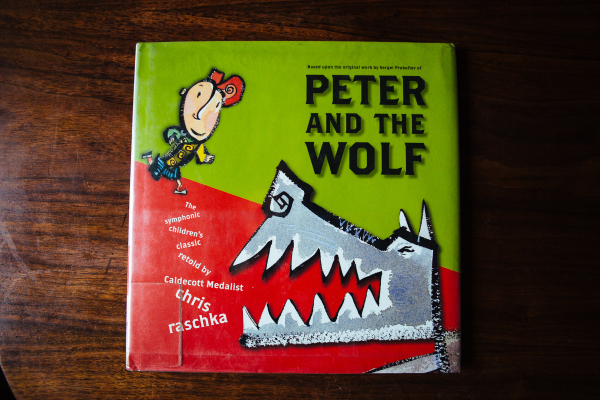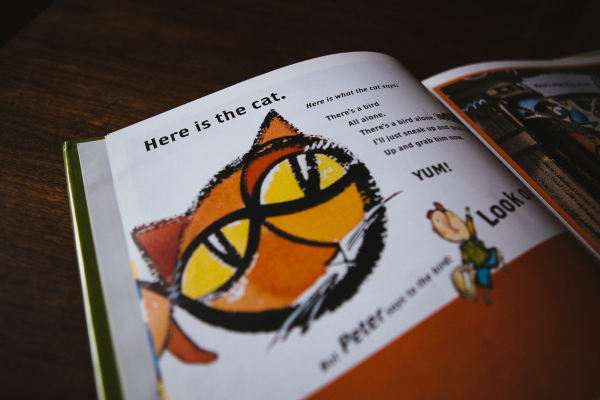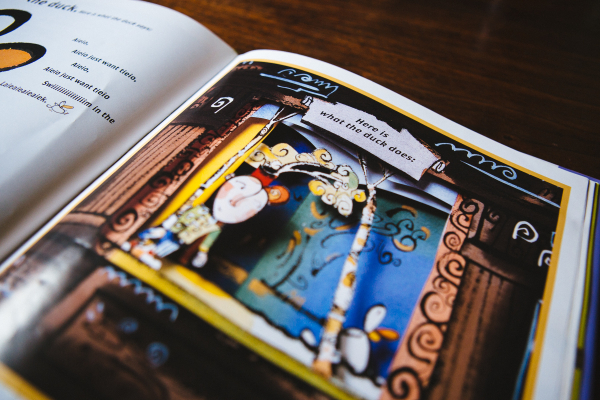 The illustrations are bold and fun and the dialogue is fresh and funny (a bit silly too, which is always good for preschoolers!).
the music
For the music, there are a few options for listening along. Many versions of this song include the narration—like this one by the Royal Philharmonic Orchestra.
The entire piece is on one track (good value – only $.89 on Amazon). But, it makes it a little more challenging to find specific parts of the story.
Another way of listening is a version that includes the narration, but also breaks each section of the story into different tracks – like this one by the Vienna State Opera Orchestra.
The last type of listening experience is just the orchestra music without narration. It's harder to find a version like this, but I've found one you can download here: this version with no narration.
Here are some quick ideas of how to use "Peter and the Wolf":
1. Just listen. One of Prokofiev's original plans with this piece was to introduce children to the different instruments of the orchestra. Each character has it's own instrument and "theme". The narration helps point out each of these characters.
2. Listen to a version with narration and follow along using Raschka's illustrations. This is a great blend of audio and visual. You will need to familiarize yourself with the story or it might be hard match it up.
3. When you really know the music, use the version with no narration and read through Raschka's book. My students love trying to identify which character is talking in the music. It's super educational while also being fun.
Two caveats for using this with preschoolers:
In the original version, the wolf eats the duck. Disney took this out in one of it's later versions making it a bit more palatable to a younger audience. Depending on your child, you may want to be prepared to skip ahead or come up with some alternate explanations. In Raschka's book, the duck stays alive in the wolf's stomach and is removed by some form of non-invasive surgery by zoologists at the end. The wolf and the duck are both safe and OK.
This is a long piece so you'll probably want to help your child stay engaged. Consider this an activity to do with your child, at least for the first few listens. It's a totally worthwhile use of time, and don't be surprised if you find yourself entertained and reminiscing of your own childhood.


You're reading a post that's part of the series: Handpicked Songs for Preschoolers. I'd love for you to follow along with these free, weekly recommendations. Subscribe to stay in the loop!
Enjoy this classic and the time with your child!