I'm not much of a country music fan, but I do love some good old toe-tapping, folk/blue-grassy music. For example, it doesn't take much to convince me to go square dancing.
Today I'm sharing a simple song that probably falls into that category.
Old Dan Tucker
This classic American song has been around since at least 1845. (I'm not even joking!). It's stood the test of time and is a great option for sharing with your preschooler. He was a bit of a seedy guy—see his photo above :)— but this version is appropriate for all ages. I love the thought that maybe my grandparents or great grandparents sang this song. That's pretty rare and a gift of heritage to pass along to a younger generation.
Johnny Bregar is a Seattle-based artist with a terrific collection of music for kids and family. His version of Old Dan Tucker is perfect for introducing your kids to this classic song in a way that they'll have fun with.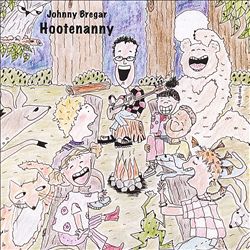 It's off his album Hootenanny which has tons of other fun songs as well. I use it for square-dancing, circle-dancing (I'll say more below), or just silly-jump-around-like-crazy dancing. You can find the album on Spotify or Amazon.
A note on "circle-dancing": This is more of descriptive term than a technical definition. It may seem like a no-brainer, but kids actually need to learn how to form a circle and how to move together as a group. In a circle dance, the group (any size!) holds hands and moves in a circle for a number of steps (usually 8 or 16). Then, we switch directions and go the same number of steps the other way. If your group can handle it, try walking into the middle for eight counts and backwards for eight steps. This is usually where my students dissolve into sillies and giggles. But, it's still a blast! And, it takes collaboration and coordination.
Take a moment and check out Old Dan Tucker for some toe-tapping good times!